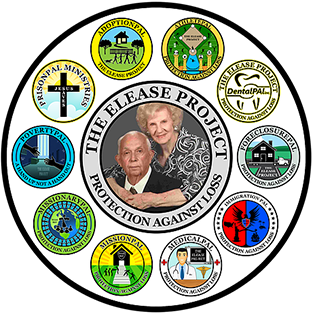 Learn how Keith Hatchett began the Elease Project and how it's changing lives every day.
Section One - Our History
Hello, I'm Keith Hatchett, CEO and founder of a brand new 501C3 charity called The Elease Project. The Elease Project began activity and research in 2009, totally funded by Keith Hatchett and his family trust. Over a period of eight to nine years, The Elease Project was built slowly and methodically through research and action in the field. When Phillip Allen and myself rented a massive 26 foot truck in April 2009, we were able to coordinate and receive donations from 21 individual families and churches all over the state of Florida. By the time we left West Palm Beach, FL and traveled all the way north on Interstate 95 to Jacksonville and then on to Pensacola via Interstate 10, our truck was now filled to the brim with amazing donations. This truck had flat screen TV's, couches, lazy-boy chairs, lamps, end tables, dining room tables/chairs, bed frames/mattresses, floor model TV's, pictures, silverware/dishes, dressers/mirrors, toiletry items, and clothing of every sort for men, women, and children. In addition, we had many boxes full of canned goods and food items. After traveling from West Palm Beach to Pensacola Florida we began our journey by traveling across the United States to San Diego California. The reason we traveled to San Diego is because that particular city has more homeless people on the streets and under the bridges than any city that I had ever traveled to. When I traveled to San Diego I met a wonderful family and a man by the name of Carlos Martinez. Mr Martinez and his family were single handedly trying to feed and clothe thousands of people each month in downtown San Diego. When we arrived in California, the amount of supplies and success that we had on our trip was overwhelmingly received with excitement and joy from the Martinez family. After unloading the entire truck into a storage warehouse with help from 10-15 family members and church members, we had completed two thirds of our mission. The final piece of our mission was to get out on to the streets and get the people the help that they needed immediately. The first day that The Elease Project began its initial research work, we decided to go under the interstate bridges of San Diego and interview the homeless. It was at this point that we discovered that these homeless people all had different levels of problems and none of their situations were the same. We created an intake form to get these peoples basic information, medical information, military experience information, and contact number information. We were shocked to know that there were actually families that we interviewed under the bridges of San Diego that were unnecessarily homeless. Two of these families had a unique situation different then the rest of the homeless but were still living underneath the interstate bridge just like all the others. These families were in the off shore oil business in Louisiana and were making approximately $40 an hour. They were told if they transferred to San Diego to a different company that their salary would be nearly $80 an hour. These families quit their jobs in Louisiana and moved to San Diego. The new job, after only two weeks of work, laid them off due to a corporate merger. These people had lost their jobs and now their home in San Diego. Carlos Martinez knew of two vacant apartments that we could furnish with furniture from our storage and we were also able to get them on unemployment very quickly. In one week these two families went from having nothing to having a place to live, furniture, food, toiletry items, and unemployment income. In addition, over a period of time we were able to help them financially so that they could get jobs and get back on their feet totally. To this day, Keith's Magnavox floor model TV still works beautifully in the living room of one of these family's apartment in San Diego.
When Keith and Phillip started working underneath these interstate bridges and interviewing other people, they took action to help these people immediately with toiletry items, underwear, three inch foam mattresses to sleep on, and clothing. We went to the warehouse and spent one day loading up station wagon automobiles with t-shirts, pants, jackets, socks, shoes and, hats. The next morning we drove to the inner city and passed these items out like candy to all the homeless and needy. It was at this point in our research that I realized all homeless people's situations were not the same. That next day, I created MissionPAL to help with homeless peoples immediate needs and then PovertyPAL to help people who had a roof over their head but yet had nothing else. The total cost of the trip was around $6,800 for the truck, hotels, and airfare back home. The total donations valued at around $20,000.
​
In my conversations with Carlos Martinez, I also discovered that Carlos and his family were suffering financially due to the overwhelming amount of money needed to continue this program. It was at this point that I decided to create the third piece of The Elease Project known today as MissionaryPAL. This third piece provides dollars and funding for missionaries on the streets in the United States and countries around the world. The next day I was invited to speak at a San Diego city council meeting concerning the homeless problem in San Diego. I explained that my new company LeasePAL would allow renters an opportunity to move in at a much lower cost due to LeasePAL's new insurance program. I explained to the city council that we were also working on a program that would help people that had no place to live due to their dire conditions. I explained to those council members that The Elease Project would provide funding to them in three areas upon it's completion. Those areas are immediate help to the homeless (MissionPAL), financial housing help for the homeless and those in section eight housing that run out of money each month (PovertyPAL), and financial help to the preachers and to the missionaries that are carrying out the work to solve these horrific problems (MissionaryPAL). The council members were very thankful and excited about The Elease Project and begged me to please get this program up and running as fast as possible.
​
Next I noticed that many of the homeless people had medical and dental problems as they could not afford proper medical and dental care. Many of these destitute laden people qualify for medical and dental help but had no one that knew what they were doing to get them enrolled into their veteran benefits, and medicaid benefits, and medicare/social security benefits. We were able to provide a toll free number that these people could call in on to reunite with their family members and also to enroll them into medical and dental help programs. It was at this point that pieces four and five were created for The Elease Project. These Programs were named MedicalPAL and DentalPAL.
​
Some of the people that we helped on the streets of San Diego were elderly in age. We were able to assist these people by enrolling them into government assisted programs that include hospital and nursing home care. This program which is the sixth piece of The Elease Project was appropriately named AdoptionPAL. Many years later in 2017 we added a second piece to the AdoptionPAL Program. With the hurricanes in Florida and Texas, many animals had no place to go nor anyone to help save them. When the last hurricane hit Houston Texas our team headed up by Sandy Carter from Daytona Beach Fl raced to Houston and along with many other volunteers and veterinarians. We were successfully able to rescue dogs, cats, horses and animals of all kind. We are currently working on combining abandoned animals with visits to the elderly and to young children's schools so that both the animals and the young and old people can experience a loving family atmosphere from each other.
​
From 2009 all the way through 2017 I had the pleasure of meeting two of the most wonderful people in the world. Their names are Scott and Velma Dawson. Scott and Velma have been in prison ministry now 27 years. With their jail ministry/prison ministry program they have gotten over 1,000 people saved and to know the lord. Countless amounts of other people have had their lives totally restructured due to Scott and Velma's bible based life foundation program. They were very successful in getting people on the right track so that they do not get themselves in trouble and have a great rest of their lives. These inmates have an impossible task of finding work, a place to live, and anyone that will help them. Once they are released from jail they will be sent to the PrisonPAL transition center. In this facility the former inmates will receive a haircut, medical care, dental care, and a place to transition back into society. They are also given an 800 number of which they can receive messages from their family members and make arrangements to be picked up after the three day PrisonPAL transition center stay expires. After I reviewed the wonderful work of Scott and Velma Dawson it was at this time that I decided to make PrisonPAL the wonderful seventh piece of The Elease Project.
I have an extensive background working with athletes over the last 23 years as both a teacher, a coach, an umpire, and an accomplished basketball official. My reputation in sports as an official and as a league and tournament organizer were well known. At one time I had seven basketball and baseball leagues in which I hired all the officials, completed all the scheduling, and organized the events. These leagues range from five and six year olds, elementary and junior high age groups, high schoolers, all the way up through college and pro players that played in my summer leagues. I built my reputation of teaching fundamentals and building peoples foundations through their life. The eighth piece of The Elease Project I named AthletePAL. This program is designed to keep players and coaches on track with good morals and great foundations that will be built by us through sports. We will bring in many of the top successful coaches and players and also we will have guest speakers from some of the players and coaches that lost their way and nearly lost everything due to poor decisions and very costly mistakes.
​
The ninth program of The Elease Project is called ForeclosurePAL. This program will take people in foreclosure and help them save their homes all while rebuilding their lives financially. For those people who have already lost their homes, the goal of this program is to get people back into home ownership through Keith's amazing rental credit building program that protects them while they're building their credit and also protects them with the financial guidance that they need to properly re-enter the world of home ownership. Most foreclosures are caused due to a lack of knowledge in the area of purchasing homes and a lack of emergency funds in case of catastrophic events that occur in peoples lives. ForeclosurePAL will work directly with the credit bureaus as we teach foreclosure victims how to restore their credit so that they can restore their lives someday financially.
​
The last program which makes up the tenth piece of The Elease Project is named ImmigrationPAL. This particular program is closest to my heart. As many of you know on April 02, 2008 Homeland Security came in to my home at 5 o'clock in the morning and took my wife Leslie from me. My wife Is beautiful, nice, sweet, and has never done anything wrong to any other person. She has never even had a parking ticket. When my wife was taken from me after two years of marriage and deported to Peru on May 14, 2008 I was devastated. I cleaned out many checking accounts with all I had to save her. I was in court after my wife was deported for many months trying to seek her return to the United States. As of today my wife had been out of the country away from me for over ten years. I lost my money, I almost lost our home, my bills doubled as I had to get all new furniture and another home in Peru. I was hit with hundreds of thousands of dollars in legal bills. It is my belief that God made me sink to an all time low so that I would come closer to him. All of this devastation in 2008 gave me the work ethic and the heart I now have for other people to help those in need. My story Is very similar to Job in the bible. Many people have stated that if all of this devastation happened to them that they would have probably lost their minds or committed suicide. Instead I decided to create LeasePAL which is an insurance company that will give me the financial means to save my wife and potentially get her back home here In the United States with me. It is important to note that I decided to show God that I was devoted to him no matter how good things were or how bad things were in the year 2008. It is very important to note that we designed The Elease Project so it would help those in need that my new company LeasePAL could not help. I talked to my mother (Elease Hatchett) and she stated how honored she was to have this project named after her. It is important to note that my mother and father honored God more than anyone that I have ever known. It is my honor to put their picture on the main center piece of the logo of The Elease Project as it honors both them and God even though it is named after my mother. My dad stated many times that when he and mom adopted me, they did it because they wanted to give someone a chance that basically had no chance to make it without help. Since 2009, we as a small group have spent over $900 thousand dollars helping others. We have loaned people money without repayment. In Nashville TN we saved a home for a family that was in foreclosure and $25,000 behind on their mortgage payments. In addition, we helped this family get on their feet and totally recover not only their home but their life as we listed their bills smallest to largest and helped them eliminate $15,000 of the $38,000 in loans and credit card debt. This family is well on their way to being debt free and paying back those who helped them. We have given jobs to ex inmates, we have helped a woman In West Palm Beach that runs out of money by the 20th of every month due to her low fixed income, we have provided free housing to four people in Florida and Atlanta Georgia. The impact that we have made in peoples lives with over 30 people in multiple cities is staggering. Keith personally paid for this help out of his personal income and his family trust. We can't do this financially all by ourselves. My Uncle Fred suggested that we also create a charity that not only helps people in these 10 areas but also benefits the wealthy givers that are donating to charity. During the time that Keith's uncle Fred lived the last two years of his life in an assisted living facility, he received hundreds of calls from organizations (charities) wanting him to donate money. He felt so bad that he could not help everyone so it was he that gave Keith the idea to design The Elease Project in a way that the donor could send money to one charity and it funds 10 other charities all at once. The donor could choose to fund The Elease Project this way or they also have the second option to put all of their money into one of the ten pieces of The Elease Project. There are only a couple of states that will allow this structure. We are glad to announce that my home state of Tennessee Is where The Elease Project's home office will be located for business around the country and around the world. The purpose of this letter is to let you know that we are people of action and not just words. We need your help so that tens of thousands of people can get the help they need and not just a few families. The structure of The Elease Project is complete and we are ready to get started. We hope that you can build yourself a home in God's Kingdom with your gifts and donations to The Elease Project.
Section - 2 The Ten PALs Structure
The Ten PALS (section) of The Elease Project are unique in structure. When Keith Hatchett researched the wealthy people of the United States and how they fund charities, he found an unusual problem in that the donor had to say no to many charities each year and yes to only one or two.This is a problem and an uncomfortable problem as most people hate to say no to charities.
The Elease Project was designed to help with this problem. Now a potential donor can donate to The Elease Project and their money is equally divided into ten categories. The following diagram/flowchart demonstrates the process and lists the ten individual categories.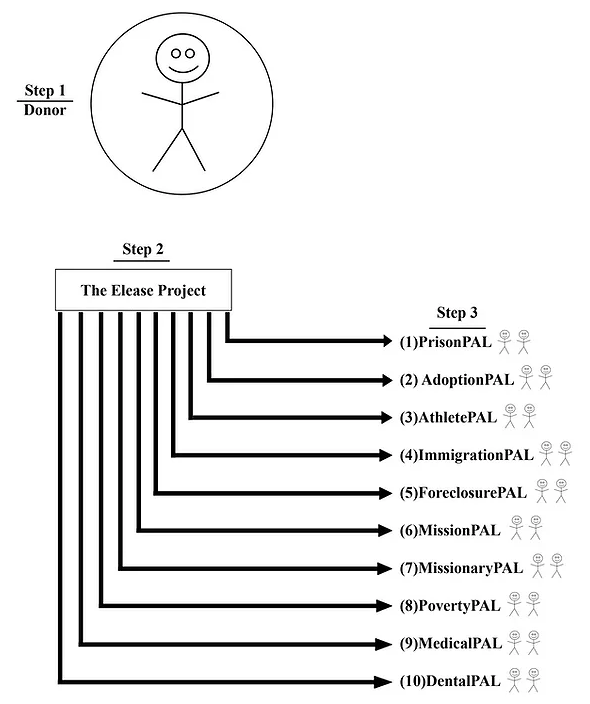 We Believe that "One" donation to the Elease Project (helping those in desperate need of help),
can benefit many in all ten areas of need.
Section 3 - The Elease Project Beta Test
The Elease Project was well underway long before it's creation in 2017. Keith Hatchett did his own beta test so that its design and purpose would work and get people the help that they needed to make it so they could survive and also so that they could thrive on their own. In 2009, Keith drove a large truck to 21 places in Florida and filled it with donations of clothes, furniture, appliances, toys, supplies such as mats, toiletry items, and also personal hygiene items. By the time Keith had made all of his stops and arrived in Pensacola, Florida, the truck was completely full. The donations were not junk. These items were very nice and useful. He drove this huge truck to San Diego, California and arrived four days later.
Carlos Martinez and his family and friends were already feeding the homeless every week in San Diego. Now he and his group could feed them, cloth them, and get them into housing. In addition, we furnished apartments with couches, chairs, lamps, tables, beds, flatscreen TVs, stereos, pictures, plants, kitchenware, bathroom decorations, toiletry items, sheets, towels, pillows, blankets, and many many other items too numerous to name. Keith, Carlos, and his group went under the bridges in downtown San Diego and passed out intake forms to the homeless so that they could sort them into categories.
These categories were MissionPAL and PovertyPAL. These two PAL's were the first PAL's created of the 10 PAL's that make up The Elease Project. MissionPAL's design was to pass out the intake forms to gather information on the homeless individuals and families. The second thing we did was get the homeless fresh underwear, socks, T-shirts, and 4 inch thick mattresses to sleep on. In Addition, we also provided them toiletry items for hygiene.
By design, MissionPAL supplied canned foods and miscellaneous items to the homeless soup kitchens. MissionPAL was successful in getting immediate help to the people of the streets. PovertyPAL got the families into affordable housing and furnished places with furniture including beds. The homeless that were families, were the first ones we rescued. Getting the women and children of families to a safe place from crime and weather was a top priority. This class of homeless were then interviewed, placed in an immediate job program, provided food, medical exams, haircuts, and we tried to qualify them for housing immediately. We checked to see if they qualify for government benefits and or insurance. We were very successful in some cases.
MissionaryPAL was created third. This program funds mission work for intercity preachers and intercity churches. It also funds missionaries in other countries around the world. Both locations in this program are in extreme need of money. Building a Bible-based foundation for the homeless was intended to build them a foundation of integrity, honesty, and hope for the homeless. We were also very successful here.
DentalPAL and MedicalPAL were created next. The poor and homeless have little to no care in these areas. Getting free medical and dental care along with the necessary medicine needed was essential for these people to recover into a normal life both physically and mentally. The success we had here was phenomenal.
The sixth program created was PrisonPAL. Many of these homeless people had been in and out of jail many times. They had alcohol and drug problems and no one of quality to help them. This program funded prison ministries and changed lives so that these people were not back on the streets homeless or in trouble again.
The seventh program created was AdoptionPAL. Keith is a great animal lover. He has traveled the world and seen horrific cases of neglect and abuse. His goal was to stop this and get these innocent animals with wonderful families and loving individuals so that great lives were created for both the animals and the people in need of a friend. Our success in this area started slow but later in 2016 our success began to really take off. Many of our animals have totally recovered even though they were near death when we saw them for the first time.
The eighth program created was AthletePAL. Keith noticed many children begging for money to play sports. He also noticed that their equipment was old and almost too old to use. Also many kids are exploited in recruiting and their parents were not able to protect them in this area. A complete education program was created. Several high school kids were able to get their grades up and get athletic scholarships with Keith's help. Keith spent many trips taking kids to sporting events and to college libraries. Most of these kids had never been too far out of their own neighborhoods and were in shock with what they saw in the other cities. When these kids saw other places in the world for the first time, it had an amazing effect on them. For many of them it was like going to Disney World for the first time as they were seeing things that they had never seen before. In addition, a lot of these kids had no dad or anyone to guide them in a structured environment. Keith is very proud of the success accomplished in this area.
The next program created was ImmigrationPAL. Keith created this program to protect individuals and families in the area of immigration. Many of these people were and still are victims in this area as they had their families torn apart by immigration problems. In addition, many of these people were badly mistreated by immigration attorneys that stole their money. This program is extremely important to Keith as he is totally against the destruction of families.
The last program created was ForeclosurePAL. Keith could not stand to see people lose their homes to banks. Life happens sometimes and people lose their homes without help. Keith and his team personally saved the home of a family in Tennessee this year when no one else would help them. They were nine months behind due to the husband's loss of his job. Keith and his team spent $25,000 to save the home and get them on track in the future. This family's own church (community church) for some reason made the decision not to help them. Keith told the preacher of that church that he had never heard of a church that does not have accounts payable and help others. Keith stated that he's been a member of the Church of Christ his entire life and helping people is what they do. This community church needs to change their thinking and get on board our program. Keith said to that preacher that he prays that they change their ways and start helping people. Keith also said, "It was our teams pleasure to help this distraught family and he encouraged the preacher to talk with the church members to convince them to provide additional dollars for this family. Since that conversation, the church has changed their thinking and had provided money to help the families financial needs. We are so thankful that they have decided to come on board and help the family. It was our teams pleasure to help them. Many lives were changed, the bank lost, and the family kept their home of 23 years.
All in all, Keith and his team have spent over $287,000 of their own money to beta test in the areas of foreclosure, immigration, prison ministry, animal rescue, athlete support, medical and dental treatment, inner-city ministry support, housing, and clothing. The personal beta test in these areas not only benefited the recipients, but it changed Keith's life as a person. Now, we have spent $37,000 to set up the Elease project as a 501(c)(3) charity so that all that are reading this can begin to legally fund this great program. The wealthy and others can now donate their hard earned dollars into one program that funds 10 different very important programs. It took eight years to do the work and set this program up correctly.
We are now ready for your help to help all those that need it. Elease and Jim Hatchett wanted to give Keith and Trina (their children) a chance to make it. It is Keith's hope that you will support our charity ministry so that all those in need of help can make it too. May God bless every one of you.
Section 4 - Budget and Use of Funds