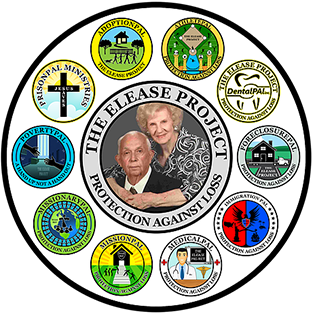 Introduction to Jim & Elease Hatchett and our Program
There are ten sections of the Elease Project. The Elease Project is a registered 501(C)(3) charity in Tennessee. This Charity was created to honor the great James and Elease Hatchett. Mr. and Mrs Hatchett adopted two children. Keith was adopted in 1961 and another child Trina was adopted three years later in 1964.
It was asked to James by Keith in the year 2016 the following question. "Dad, why did you and mom adopt Trina and I?" Dad replied, "Your mother and I could not have children due to my low production count involving our ability to have kids. We always wanted children and could not have them so your mother and I decided to adopt a child." I asked dad what their goals were with this adoption. He stated the following, "We thought we could give you a chance to make it by adopting you." Most orphan children have little to no chance without help. The helpless need help and this is what your mother and I decided to do. My dad stated that he and mom wanted to help me in every category. They wanted me to have a Christian education, morals, a God-fearing/God loving life, and they wanted to protect me from harm.
My father when telling the story was adamant about defending and protecting those who could not defend themselves. He stated that he and mom went through a rigorous background check that they had to pass. The state agency wanted to make sure that they were fit to adopt and that they would be able to take care of me. Dad told me, "Your mother wanted children and motherhood." Mom was a great wife to my father and a great mother to me and became in my opinion the greatest mother I could ever have gotten through adoption.
I asked my father how and why we got my sister Trina. He stated that I had red hair when they got me in 1961 and that they wanted a little girl also that would complete the family. In 1964 the state of Tennessee contacted James and Elease Hatchett and stated that they had a little redheaded girl and Mom/Dad said yes. Little did they know that Keith and Trina would turn out to be such blessings to them. God blessed both Keith and Trina also through this adoption. 
As children there is no doubt that we hit the lottery as orphans of the state of Tennessee when we got James and Elease Hatchett as parents. The Elease Project now honors Elease Hatchett and wants the world to know about her. She took Trina to cheerleading practices and Keith to all his ball team practices.
She got us up every day and helped us get ready for school. She helped us with our school projects. She made our lunches. She repaired all our clothes. She taught us the Bible. She taught Sunday school. She drove the carpool to school. She recorded all Keith's ball games that he went to involving The University of Tennessee while Keith attended the games in person. She taught Keith great work ethic and Trina how to be a Christian woman.
I never knew our mother to lie, curse, or to sin while I knew her. She was a shining star that represented Christ in all she did. She was honest, good, and a great wife to her husband James. She protected us from evil in all ways. She sacrificed it all for my sister, my father, and I. She made my dad the great man he was and turned him into the best father we could have ever hoped for. Dad was awesome and my sports buddy but mom was the backbone of our family.
The Elease Project was created to honor both her and Dad. My mother and father are humble but were pleased to see that this project will help the helpless for years after we are all dead and gone. It is our goal to carry on the legacy of James and Elease through "The Elease Project". Mom always stated to me that on judgment day she would be held accountable by God for Trina and I. She wanted us to remember where we came from regardless of our successes in life. She pleaded to Trina and I that we remain devoted to God and represent the Lord in all our actions. She wanted this charity to be one of "total adoption" of others. I want to say to God, "Thank you for James and Elease Hatchett for all they did for Trina and I. Also I want the world to know that Trina and I have done very well in life because of our parents. We look forward to helping all we meet on our path here on earth through the Elease Project. More than anything we hope we can see Dad and the great Elease Hatchett again in Heaven for eternity. Mom, The Elease Project logos are finished. The people are ready to begin the work. The set up fees are paid. The wish you requested and the mission statement are ready for implementation.
We begin this work today in honor of you and dad. Thanks for adopting Trina and I. We hope to do a great job with this project so that in the end we will see you at the "top". We miss you and are forever grateful. Thanks for adopting us!! We will now begin adopting others in all ten areas as promised. We love you and promise to show your love to others through this project. Thank you all for reading the story of the great Elease Hatchett.