John David Cunningham's Story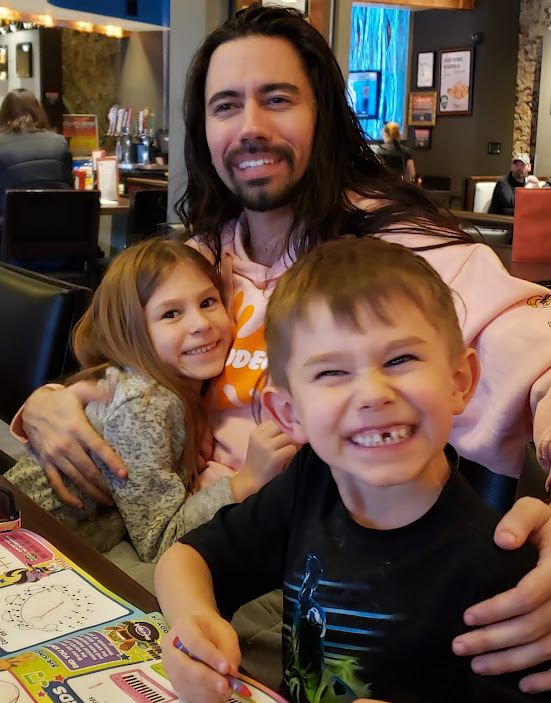 John David Cunningham Story – The Silver Bullet Divorce
The Setting – John David Cunningham, son of Elliott & Mary Kathryn Cunningham, married Victoria (Vicka) Reguli Cuningham, attorney Connie Reguli's adopted Russian daughter, in October 2012. Vicka was already pregnant when they married. Their daughter was born in November 2012, and their son was born the following year. John David and Vicka's marriage had always been up and down. Vicka was abusing drugs and alcohol and was later arrested for physically abusing John David.  Because of Vicka's drug and alcohol abuse, her mother Connie Reguli, always appeared to insert herself into their marriage to control her adopted daughter's life and seemed unhappy that she could not control her husband, John David.  Connie Reguli had also inserted herself into Vicka's twin sister Yana's marriage and bitter divorce, taking custody of her only child.  In 2015, Connie Reguli had threatened to take Vicka and Johns David's children away, as well, and leave them homeless.
Connie Reguli Ex-Mother-in-law – Connie Lynn Reguli is a suspended Williamson County Family Practice Attorney, well versed in divorce proceedings, DCS, CAC, Our Kids, and sexual abuse cases. Connie Reguli has 14 Tennessee Board of Professional Responsibility issues on her record dating back to 2009. In previous cases, she has been an abusive litigator suing judges, mayors, prosecutors, detectives, DCS, and Our Kids, and recently sued the Tennessee Board of Professional Responsibility.
In April 2022, Connie Reguli was convicted of two Class E Felonies for harboring and aiding a client's child. In another matter, she was found guilty in District Court on multiple counts of Rule 11 violations, including Abuse of the Law, False Allegations, Fabricating a Misleading Document, and Harassing Government Officials, including a Judge.
Court Cases – There have been four court cases in 2 counties regarding John David and Vicka's Divorce.
1) Family Court Divorce Case with over 199 filings by Vicka and Connie Reguli in Rutherford County since 7/18/2020. 2) Criminal Case with charges of alleged rape and sexual abuse of his daughter by John David in Rutherford County 10/12/2020. Exclusive evidence pushed to DA by Connie Reguli. 3) Dependency Neglect Case filing by Connie Reguli following the DUI arrest of Vicka, who had totaled an automobile 5/29/2021. John David was represented by his attorney at that time. His parents, the paternal grandparents Elliott & Mary Kathryn Cunningham, also intervened for visitation. Connie Reguli later dropped that suit just prior to depositions and the hearing on 11/20/21 4) Criminal Contempt Case filed 7/23/21 by Connie Reguli against John David's father, Elliott Cunningham. Connie Reguli dropped this case in April 2022, just prior to the hearing.
Connie Reguli was found guilty at her criminal trial of 2 felonies for harboring a client's children in April 2022. Connie Reguli is facing an Aggravated Perjury felony charge in another case, and her Trial was set for 1/30/23, but continued to 5/2/23.
The Story – On May 29, 2019, John David came home from work to find Vicka drunk and apologetic, the children unfed, the home a wreck, and bizarrely Vicka had shaved their Siberian Husky bald. John David went to the store for groceries, and Vicka told him to get Bath Bombs for her and the kids. When he got home, his daughter, then six years old, said, "Can we take a Bath Bomb together, Daddy?" To which he said, "No."  Vicka exploded and was furious, accusing him of wanting to take a bath with his daughter. Vicka then escalated that accusation into an aggressive argument, so John David told her she needed to go to her mother's house and get her act together. This initiated the Silver Bullet Divorce.
Vicka left with the children and went to a neighbor's (Jessica Bratcher) house next door, where Vicka made allegations against John David, which he did not learn about until more than a year later. From there, Vicka went to Connie Reguli's house for a few days. During that time, Vicka and John David stayed in communication and were visiting as a family. Things were cordial, and he visited with her and the children doing family things like movies, dinner, etc. Around June 6, 2019, John David came home to find a note from DCS requesting to talk to him. He had no idea what it was about. He found out much later from Connie Reguli that it was for Sexual Abuse of his daughter, but Connie said she was taking care of it, filing a reply on his and Vicka's behalf. She also stated that she was filing a 1 Million Dollar lawsuit against the Judge, DCS, and others because she wanted her professional resource, Dr. Janie Berryman, to do the initial interview with his daughter, plus because of alleged violations made by DCS, according to Connie Reguli.
Vicka then told John David that she blamed the neighbor, Jessica Batcher, for causing all the trouble by turning in a police report and said that things would be fine because nothing had happened and that she had not told Jessica Bratcher about any sexual abuse. Vicka and John David continued to see each other and do things together as a family. On July 18, 2019, John David's birthday, this would be the last time he would see his children.
Shortly after July 18, 2019, on behalf of her adopted daughter Vicka, Connie Reguli began filing TROs (Temporary Restraining Orders) against John David in Family Court. All the while, Vicka, and Connie Reguli refused to comply with requests from DCS for an interview with his daughter to consider the allegations. At the time, John David was still unaware of what the allegations were, so he responded to DCS. Vicka told him to avoid DCS and not to talk to them because her mother knew how to handle it and was taking care of it on his and her behalf.
DCS 1st Contact 6/11/2019 – Vicka and Connie Reguli refused to comply with DCS and would continue to refuse to comply for the next 4 months, keeping John David blocked from seeing his children. Vicka and Connie Reguli used the DCS cloud by defying several court orders compelling them to comply.
DCS 1st Interview 11/7/2019 – Finally, Vicka and Connie Reguli allowed the child to be interviewed for the first time by DCS and CAC on 11/7/19, four months after leaving the marital home. His daughter did not disclose any sexual abuse. After the interview, Connie Reguli refused a mandatory DCS in-home interview that same day, calling the DCS worker a "Liar" and claiming "Contempt."
John David called DCS again in November 2019 to check on the status of the completion of the interview because it had been used as a cloud to keep him from seeing his children for the previous 4 months. He was told by DCS that the interview was completed and that there was no reason he couldn't see his children. He was then invited to his daughter's 7th birthday party on 11/17/19 and also dinner with Connie Reguli, Vicka, and the children. The children were ecstatic to see him. The next day Vicka and Connie Reguli filed a TRO in Family Court, and John David went to the hearing. Judge Darrell Scarlett denied the motion made by Vicka's attorney, and Vicka agreed instead to a temporary parenting plan where John David could have regular visits with his children again.
Later, John David was made aware that his daughter was seeing Dr. Janie Berryman and that she had been seeing Dr. Berryman since 10/8/19. It was later learned that this was in defiance of the DCS instruction that Dr. Berryman not see his daughter before DCS did their interview. The DCS interview finally occurred on 11/7/19. John David also agreed to see Dr. Berryman in December 2019 for two sessions, as requested by Connie Reguli.
Everything seemed to be going well, and under the agreed parenting plan John David was seeing the children on weekends through 1/31/20.
DCS 2nd Interview 2/6/2020 – This time, Vicka and Connie Reguli immediately cooperated with the second DCS interview, nine months after his daughter had first been estranged from her father. This time, his daughter made startling disclosures of rape and sexual abuse, but her demeanor was strangely casual and playful. She said that it had happened "millions of times." When asked why she had not said these things in the first DCS interview, she said, "Because you didn't ask the questions the right way." When the interviewer left the room, his daughter smiled and waved at the camera.
Divorce MDA Agreed 02-12-2020 – John David agrees to the Marital Dissolution Agreement. Child Custody is set for a later date. He is unaware of the new DCS inquiry and allegations at this time.
Visitations Stop 2nd Time 2/14/20 – After the February 2020 second DCS Interview, when disclosures were made, all visitations abruptly stopped again. John David's divorce attorney notified him that Dr. Berryman had written a letter to Judge Darrell Scarlett on 2/4/20 stating that his daughter had reported that "he put his privates in my privates." John David's visitations were immediately suspended again because of this allegation, and he was blocked from seeing his children. His daughter's sessions with Dr. Berryman stopped shortly after these heinous allegations had been made and visitations terminated. Strangely, there are no other mentions of sexual abuse in Dr. Berryman's notes before or after 2/4/20.
Our Kid's Medical 1st Visit Refused 2/19/20 – Vicka set an appointment with Our Kids to do a Medical Examination of his daughter because of the allegations. She showed up at the appointment and said, "Do you know who I am?" The Our Kids staff acknowledged that they knew exactly who she was, Connie Reguli's daughter. Vicka then argued with staff about how things would be done her way. The staff then informed her of how and why things were to be done following their policies and procedures. Vicka finally agreed to do the Medical Exam. However, when the nurse practitioner came into the examining room, Vicka had left with his daughter. The staff later found her outside on the phone with "her attorney," Connie Reguli. When Vicka got off the phone, she informed the staff that she was refusing the Medical Exam and left with his daughter.
Motion for Evidentiary Hearing on 9/16/20, Filed 7/13/20 – The following seven months passed with the cloud of new allegations made by Vicka and Connie Reguli to prohibit John David from seeing his children. He finally had his Divorce Attorney file for an Evidentiary Hearing on 7/13/20 to hear the evidence in Family Court with Judge Darrell Scarlett that was keeping him from seeing his children because he still did not know the extent of allegations other than "sexual abuse." Immediately after filing, His daughter was taken back to Dr. Berryman's office and started weekly visits at the end of July until the Family Court date of 9/16/20, apparently to prepare for Family Court. It was learned much later, after Discovery in the Criminal Case, that there were no mentions of Sexual Abuse in Dr. Berryman's notes during these visits with his daughter. The Family Court trial date was set for early September 2020, and Dr. Berryman sent a letter to Judge Darrell Scarlett dated 9/3/20, stating that the children did not want to see their father.
In the 9/16/20 hearing, Judge Darrell Scarlett heard testimony from DCS, CAC, and Dr. Berryman. He watched the 2nd DCS Video Interview with allegations made by his daughter, had his daughter testify and answer questions in his chambers, heard testimony from John David and Vicka, and at the end of the day, without taking a break Judge Darrell Scarlett ruled, "This man gets to see his children."
John David and his children were reunited for the first time in seven months, hugging and loving each other. This began a month of visitations seeing both children twice a week and reestablishing phone calls.
Below is the video of John David and the children being reunited. 
 Ch Click HererOur Kid's Medical 2nd Visit 10/5/2020 – On 10/5/20, Vicka finally took his daughter to Our Kids for the Medical Examination, nine months after the second sexual abuse allegations were made 2/2/20 and seventeen months since they had left the marital home in Smyrna. The Medical Examination came back negative on all findings, showing no evidence of rape or sexual abuse of any kind.
Arrested 10/12/20 – John David was arrested on 10/12/20 on thirteen counts of Rape and Sexual Abuse of his daughter. He had a $100,000 bond and ankle monitor and could not be around any children, including his own. He spent five days in the Rutherford County Jail and lost his $60,000-a-year job with CGS Medicare-Medicaid. He could not get a new job due to the Criminal Charges and inability to pass a background check. So he filed for unemployment benefits of $1,200 monthly and continued to pay his $950 child support payments until his benefits ran out the following year. It would take two years to finally get to Criminal Court on 12/5/22 regarding the allegations against John David, and he was not allowed to see his children during this time.
Vicka Reguli Cunningham Deposition in Family Court 9/8/22 & 9/29/22 – Vicka was deposed by John David's attorney Brock East in his offices in Murfreesboro as part of the Family Court proceedings that had been ordered by Judge Darrell Scarlett. On 9/8/22 & 9/29/22, Vicka, her attorney, and John David were present. Under oath, Vicka testified that his daughter had never told her anything regarding abuse by her father.  Vicka also testified that she and her mother did not call the police to report any allegations because her mother, Connie Reguli (as her attorney) was in control of everything. Vicka further testified that her mother, Connie Reguli, had called her professional witness, an old friend and child psychologist Dr. Janie Berryman in July 2019 to take care of interviewing his daughter instead of DCS. Vicka also admitted that her mother, Connie Reguli, had filed a lawsuit against DCS for 1 Million Dollars on her behalf. Vicka verified text messages from her mother, Connie Reguli, who threatened to take their children away and leave them homeless, sent in 2015.
District Attorney and Judge Tidwell intervene in Family Court October 2022 – The District Attorney filed motions to terminate Depositions in Family Court when Connie Reguli was served notice to appear for depositions. Connie Reguli told the process server she would get the subpoena squashed. The DA also filed motions with the Criminal Court to turn over Vicka Reguli Cunningham's Deposition and any other documents providing him insight into the Family Court case and any evidence verified through the Depositions.
Criminal Trial Rutherford County – 12/5/22. Jury Selection begins, and testimony starts on 12/6/22
Trial – The first witness was the Neighbor. Jessica Bratcher shares her testimony of how Vicka claimed that John David had been allegedly sexually abusing His daughter and stated she never spoke to his daughter about it. Jessica also shared her text message exchanges with Vicka that showed Vicka was delaying and blocking reporting the allegations to DCS and that her mother, Connie Reguli, Family Practice Attorney, was taking care of everything. Mrs. Bratcher ultimately told Vicka she was lying and "had lied about everything." Jessica told Vicka that she had reported her own complaint to the police and that because of this Vicka was furious.
Trial – The second witness is John David's daughter, now 10 years old. When questioned in her testimony, his daughter said she'd "lied about a lot of things" in the second DCS CAC video interview. When asked by the Prosecutor whether specific things had happened regarding each allegation in the complaint, his daughter answered "no" to each one. When asked what her father had done to her, she stated that he had been "inappropriate." When asked about what was inappropriate, she said, "touching." She was asked to describe what was meant by inappropriate touching, and she held her hands up to the left and right sides of her rib cage and said, "like this." She was asked if her father had touched her any place else while being shown the diagram of the anatomical female child body, showing the front with the vagina and the back with the butt; she said, "here," drawing a circle around the ankles. When asked what she calls her father, his daughter said she calls him "JD." She then waved and smiled at him as she walked out of the courtroom. His daughter also testified that she had met with the Prosecutor three times in preparation for the Trial and had watched her second DCS CAC interview video four times, the latest being the day before her testimony in court.
Trial – State Witnesses. All State witnesses testified in support of the Defense and confirmed Vicka and Connie Reguli's delays, obstruction, lies, refusal to comply with court orders, and the lawsuit for 1 Million Dollars against DCS, Judge Davenport, and others. They also testified to having been sued by Connie Reguli previously in other cases.  
Trial – Dr. Janie Berryman Witness. Dr. Berryman said she was retained since September 2019 to provide therapy for his daughter. "The intimal reason for therapy was to address the adjustment to her parent's separation and pending divorce." However, Dr. Berryman testified on the intake form, "Per Mom, Dad would touch her privates under the blanket," and other notes Per GMom, Connie Reguli. Dr. Berryman admitted that his daughter had never mentioned this before 2/4/20. The statements of sexual abuse allegations from Vicka and Connie Reguli on the Intake Form became the narrative, and they did not show up again in Dr. Berryman's notes until 2/4/20. They never showed up again in her notes afterward. This narrative appears in the 2nd DCS CAC Interview with embellished details on 2/10/20.
Dr. Berryman testified how she sets up a meeting with a child and uses a "Treasure Chest" with treats. She said, "I can get a child to do anything for a Tootsie Roll!"
During Dr. Berryman's testimony, the State introduced partial and unverified transcripts from the Family Court Divorce case proceedings provided by Connie Reguli to the Prosecutor.
Note:  The Prosecutor also interjected himself into the Family Court case regarding depositions for Vicka, Connie Reguli, and Anton Reguli and forced the turnover of any depositions from the Family Court case. These would have exonerated John David.
Dr. Berryman testified that she stopped treating his daughter shortly after the 2/4/20 letter was sent to Judge Darrell Scarlett, despite the graphic allegations made on 2/4/20. She testified she did not see his daughter again until the end of July 2020 in preparation for the Family Court Evidentiary Hearing set for 9/16/20 with Judge Darrell Scarlett. Dr. Berryman confirmed that his daughter never mentioned any sexual abuse references in these sessions. Dr. Berryman also testified that Judge Darrell Scarlett reviewed all the evidence in the DCS, CAC, Dr. Berryman, Videos, et al., and questioned his daughter. He ruled John David was ordered to see his children.
Trial – State Runs Long. The State took up over two and a half days from Tuesday to Thursday before Resting without calling Vicka or Connie Reguli as witnesses. All State witnesses testified to the Defense assertions regarding delays, obstruction, colluding to delay, false information, etc., without objection.
Trial – The Defense was blocked from Connie Reguli and Vicka, causing delays. The Defense was blocked from calling Connie Reguli and Vicka because they refused to reply to the Defense even though they had been subpoenaed. The State informed the Defense that they could have Connie Reguli and Vicka appear as witnesses for the Defense within 30 minutes. That was at 1:00 pm Thursday. By 3:20, Connie Reguli and Vicka still had not arrived, and Judge Barry Tidwell sent the Jury home for the day, with the Defense having lost the entire afternoon. Connie Reguli and Vicka finally arrived after 4:00 pm and were admonished by Judge Barry Tidwell, who instructed them to return at 8:30 am Friday.
Trial – Judge Refused to allow the Defense to go past Friday. Judge Barry Tidwell informed the Defense end of the day Thursday, and before any presentation by the Defense, that the Trial would end on Friday and not go into Monday as previously discussed.
Trial – The Defense Rests – With no time left to put on witnesses and believing that they had made a case for the Defendant via the States witnesses, the Defense Rested.
Trial – Closing Arguments – The closing arguments began immediately. The Prosecutor waved off the Defense Case as the "Old Divorce Defense." He acknowledged that Vicka and Connie Reguli had obstructed the State's case. The State also proposed that Vicka and Connie Reguli had done this to avoid criminal charges against themselves.
Trial – The Jury and Verdict – The Jury was instructed on Deliberations and began at 1:30 pm without a lunch break. They deliberated until after 5:00 pm. The jury returned a verdict of Guilty on all 13 counts of Rape and Sexual Abuse. John David was immediately remanded to Custody in the Rutherford County Jail, his Bond was Revoked, and Sentencing was set for April 12, 2023.  On April 12, 2023 he was sentenced to 100 years in prison and was transported to Bledsoe County Correctional Complex in Pikeville, Tennessee.
John David Cunningham is innocent of all charges. He and his children, his daughter & his son, are all victims of this Silver Bullet Divorce. Please demand Justice for John David and his family.
Please support John David's Legal Defense – Click Here