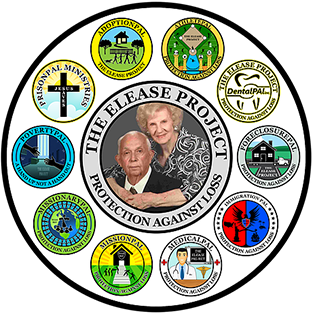 My name is Keith Hatchett. Many of you reading this speech have known me my whole life. Many of you knew my adoptive parents Jim and Elease Hatchett whom this charity movement is named for. To all of you that don't know them, they adopted me when I was an eight week old orphan of the state of Tennessee. Both my dad and my mother Elease were angels. This story is all about what they believed which inspired this speech on what I believe. Many of my beliefs were inspired in me by my father but especially my mother. I asked my dad before he died last year two questions: (1) The first question was how could I be thought of and loved like all people loved he and mom? He stated Keith, you have so much talent and work ethic, however, if you can get off the race track of life and pull in the pits and let me refuel you with kindness, meekness, and Christian gentle love for others, then you will have it all and win the race and be a champion of life. That day I committed to be a different person and received the missing piece necessary to achieve all the great gifts that God had in store for me. My father also stated that if you help others in all you do both in your profession, and the way you treat strangers and friends, then you will receive the crown of life which will allow you to be in Heaven with our Lord for eternity.
My father stated, "I believe when you work with others, meet people at the gas station, play against people in sports, talk to your friends, meet new people, talk to potential clients, visit the sick, or whenever you deal with others, you must represent God." My father married my mother Elease because she instilled these principles in him, and now before my dad died he gave this talk (speech) to me to refuel me with enough gas to do God's work so I could win the race of life and go to Heaven at the end of my life which leads to receiving the crown of life. When my dad put his personality and the love of my mother in me that day, my whole life changed. Question two: (2) Dad, why did you and mom decide to adopt me? He stated simply that he and mom wanted to give me a chance when I basically had very little to no chance of making it as an orphan child.
These two questions answered by Dad last year changed my life, inspired The Elease Project and its new design, and most importantly, inspired the speech you are about to read. I believe this speech is the most important one since Martin Luther King's "I Have A Dream" speech. Please read it in full as I hope to inspire you to change your own status quo. This speech honors Elease Hatchett but I want you to know that it is not about her, or Dad, or Myself. It is 100% about you! To all who read this, I hope to inspire you and to take where you are on your personal race track of life and get you refueled to spread love, kindness, and meekness to others all while helping others win the race for themselves that simultaneously gives them the crown of life which is to be in Heaven with our Lord for eternity. The following speech is to inspire you to take action. I don't want you to go to church and put money in the collection plate and simply leave church and go back to your normal work week activies. There are people in church sitting right next to you that are suffering so much and you don't even know about it! This speech is to inspire you to take action and join The Elease Project movement to help others.. We have already created how it works and what it does. That is nice but it inspires no one. What this speech is about is why we created The Elease Project and our passion to find people to join this movement because they believe what we Believe. When Martin Luther King gave his speech in 1963 in Washington DC, over 250,000 people showed up (amazingly, while researching this event I discovered that 25% of the attendees of this speech were white people). They did not drive eight hours and then also stand in the hot sun to hear a speech on civil rights because of Martin Luther King. They drove eight hours to be there for themselves. They wanted to be first and they were there for themselves because when man's laws go against God's laws, then civil rights need to be restored. As you are reading this speech I want you to be part of The Elease Project for yourselves, not for me. It is my dream that The Elease Project and this speech will inspire you to become the man or woman that God intended you to be. Don't just sail through life and be a good person. Do something great because you believe it to be right and the feelings you will experience will be like no other because you will now be living like no other. My speech contains my story and how inch by inch, little by little, I got away from God without realizing it. I want to inspire you to win a personal championship. I want to reach down inside your mind and I am going to motivate you to obtain a personal championship in all aspects of your life. Zig Zigler stated many times that you cannot hit a target that you cannot see. The Elease Project will inspire you to hit your new life target of saving yourself all while saving others and achieving a championship of life for both you and those you help.
Keith Hatchett
November 9th 2017
As Martin Luther King stated in 1963, "I am happy to be here today." My name is Keith Hatchett and my story is about a demonstration of freedom that has slowly, inch by inch, been taken from all of us right before our eyes. The Emancipation Proclamation was about freedom for Negro slaves whom have been seared in the flames of injustice. It was supposed to end the problems but unfortunately the Negroes as of 1963 were still being exiled in their own land. Martin Luther King stated that he gave his speech to dramatize this shameful condition. Martin Luther King stated in his speech that 250,000 people have come to Washington DC to cash a check. He stated that "when the architects of our Republic wrote the magnificent words of the Constitution and the Declaration of Independence, they were signing a promissory note to which every American is to fall heir." This note was a promise that all men, yes black men as well as white men, and men and woman of every color would be guaranteed the unalienable rights of life, liberty, and the pursuit of happiness. It was obvious in 1963 that America has defaulted on this promissory note in so far as her citizens of color are concerned. But now in 2017 (yes, I said 2017), the bad politicians that are running our country have expanded their injustices to White people, Spanish people, Asian people, Canadian people, Australian people, and people from all over the world. It is obvious that again the crooked lawmakers in this country are now about lining their pockets with money at the expense of others. Not only have people now been written a bad check, but now white people from other countries around the world are no longer allowed to immigrate here due to the racism laws in this country put in place in 1996. The politicians and lawmakers of racism have now made it a ten year process to come to America and have made it so expensive that most immigrants can't afford it. The crooked lawmakers and bad people in our government are getting rich with unnecessary fees and court costs and are racking up billions of dollars doing it. The new money maker they now are doing is deporting family members  illegally of American citizens for $40 million fractional banking payouts by the use of bonds through private prisons. This is modern day slavery and slave trading through deportation. This is how the bad guys of America make money in the area of immigration. They are also making money in the area of foreclosures with mortgage-backed security's. They are stealing peoples houses at a record pace and putting people in foreclosure that never missed payments on their homes, all so they can wrongfully get an 80% government mortgage bailout check and then they make up false documents at the courthouse to foreclose on innocent people and resell the stolen homes to the next victim. These bad people are also doing horrible things in the area of medical insurance and have destroyed health insurance as we know it for the middle class and self-employed all in the name of money. They have put caps on dental insurance leaving people owing thousands to tens of thousands of dollars out-of-pocket which bankrupts our middle class and poor citizens.
They are not improving the homeless conditions in America and in fact it is even worse now than ever before. Many of these people have lost their lives mentally due to drug use and prescription medicines, and painkillers that are killers disguised as painkillers. There are churches in America taking big contributions but not supporting missionaries and preachers so they can make a difference. Many churches are doing great things but many of these new community churches are just building huge buildings with the money and not helping those in need. There are millions of people in section 8 housing that are not homeless and they have a roof over their head but they get very little money to pay utilities and food and in most cases are starving between the period of the 20th of the month to the 3rd of the next month when they get their next SSI/Disability check. There are little to no programs for athletes to guard them against being used and abused for money from the time they play youth sports through high school and college and onto the pro ranks. Horrible abuses by coaches and runners (illegal recruiters) that work with the agents treat these players like they are slaves of the slave traders. The NCAA basketball scandal that is going on today is proof that plans need to be put in place to protect these athletes that are innocent people. Wide-scale abuse of animals and the elderly people in this country are at an all-time high. These animals and elderly people are innocent and helpless without someone to protect them. Just today on the news a 94-year-old elderly woman had to escape from being kidnapped. Last but not least are our prisons. Our court systems are corrupt and putting people in jail. It's all about the bond money it produces through a mathematical process called fractional banking. When a prisoner signs off their bond, it generates $40 million in revenue to the jails, prisons, politicians, and most prisoners do not have a proper education in life to build a Bible-based Christian foundation that protects them from jails and prisons. We must teach all jailed and imprisoned people the word of God and provide them a systematic way of life to be of value and functionally successful in today's society! We must help them with jobs, insurance, clothing, housing, and counseling to save their lives so they can be saved when they die and spend eternity with God.
The Elease Project was created to help people survive, thrive, and to make it both here on earth and in Heaven with our Lord and Savior. The Elease Project is a charity that was originated and created in the state of Tennessee that is uniquely designed so that when a donor donates to The Elease Project, he or she can help in the following categories:
DentalPAL- (Dental)
MedicalPAL- (Medical)
MissionPAL- (Homeless People)
PovertyPAL- (Section 8/Disabled People)
MissionaryPAL- (Missionaries/Preachers)
AthletePAL- (Athletes)
ImmigrationPAL- (Immigrants/Families of Immigrants)
ForeclosurePAL- (Saves Houses/People Living in Them)
AdoptionPAL- (Animals/Elderly People)
PrisonPAL- (Prisoner Ministries)
I believe that if you help The Elease Project with your time and donations that we can make both the Democratic and Republican people and all others in between great Americans again.
I believe we can stop wrongful foreclosures. (ForeclosurePAL)
I believe we can restore families by stopping wrongful deportations. (ImmigrationPAL)
I believe I can get the price down and the benefits up at the same time in the area of healthcare through a process of re-insurance. (MedicalPAL)
I believe my charity can cover what dental insurance does not cover so that dental care is affordable and does not bankrupt our people in America (DentalPAL)
I believe that athletes can be protected from corruption during their lifetime all while getting an education that includes an offense and a defense which protects the athletes both on and off the field or court. (AthletePAL)
I believe that Section 8 Housing/Disabled people can be funded to make it from the beginning of each month to 3rd of the following month without starving and being broke. (PovertyPAL)
I believe that homeless people can get insurance, clothing, haircuts, food, education, and counseling to stay off drugs and alcohol to become restored citizens. (MissionPAL)
I believe that churches including community churches can spend more money to help those in need and instead of building massive church buildings, they can fund Bible schools that produce more preachers and they can provide more money to missionaries that preach the word of God which in turn saves souls around the world. (MissionaryPAL)
I believe that animals can be saved, rescued, and placed with families to give them caring homes. I believe that the elderly people should never be abandoned and left alone in isolation which leads to depression and finally death. I believe that the elderly can be treated with first class care and protected from physical and financial abuse. (AdoptionPAL)
I believe that people in jail and prisons for the most part are there for preventable reasons. I believe our program will prevent prisoners from going back to prison a second time. I believe our program will teach fundamentals of the Bible that will change lives forever. I believe our program can greatly reduce crime and the jail/prison population all while simultaneously increasing the good people population, saving states and counties millions of dollars. (PrisonPAL)
Most importantly I believe we can run this charity and it will be the most successful charity ever because we are immigration experts, foreclosure experts, homeless care giver experts, missionary/preacher support experts, experts for guidance of athletes, medical experts, dental experts, poverty elimination experts, prison ministry experts, and animal and elderly person care experts.
I believe that God created all of us at The Elease Project and gifted us with abnormal abilities. I believe our group was born to help others in all these different categories.
I believe that Jim and Elease Hatchett are two of the nicest most wonderful God-fearing people that I've ever met.
I believe that God wants you, yes you, to make it.
I believe that God wants you to go out into the world and help in every way you can while here on earth.
I believe that God wants you to help others win the race of life so we can be saved and go to Heaven to be with him.
I believe that God wants you to take action.
I believe you will be blessed if you take action in whatever way you can.
I believe The Elease Project is where all of you should donate your money, time, and effort as it took nine years to complete this project with blood, sweat, tears, and money to do it right.
Lastly, I believe and I know that this program is not about Keith or James and Elease Hatchett. It is about you having a great life helping yourself as you help others. If mom (Elease) were alive today, she would say, "It might have my name on it, but it is not about me. It is about God and honoring him."
In conclusion, all of us have three choices in life with everything that comes to us with a decision that has to be made. You can do nothing, you can do something bad that doesn't represent God, or you can do something great that honors God through your actions. We have the tools for you to do something great and it is called The Elease Project.
We are officially asking for your financial help and prayers. Soon all of us, Black, White, Spanish, Asian, European, old, young, white collar, or blue-collar can make a difference that is real. Dr. King said "Mine eyes have seen the glory of the coming of the Lord." When the Lord comes, will you be ready? I hope so. May God bless you every day of your life. As Keith's father once said, "We want all of you to pull into the pits and get refueled so that you can make it and win the race on this race track called life. By getting involved with the Elease Project, not only will you win the race of life, but you will also simultaneously be helping others win their personal championship in the race of life as well. Thank you for your support and thanks for believing what we believe.
Finally, I believe the Elease Project is the tool that will help rebuild so many peoples lives and I hope that you will be a part of this great program that gives other people a chance when they have very little or no chance. This dream I have of The Elease Project would have never been possible without the love and protection of my birth mother Patricia Clark. She realized in 1961 that she did not have the financial means to take care of me properly so she made a tough decision to put me up for adoption. Patricia Clark, known today as Pat, told the State of Tennessee adoption representatives that she would not sign the papers to release me until they promised her that they would put me in a Christian home. The State of Tennessee made and kept this promise to her and that is how after 8 weeks of life as an orphan of the State of Tennessee, I was lucky enough to hit the lottery of life and become the son of James and Elease Hatchett.
It needs to be stated that it is really Patrica (Pat) Clark that started The Elease Project. She handed both me and her Christian beliefs to James and Elease Hatchett through the careful hand of the State of Tennessee adoption services program. Mom and Dad then taught and groomed me to use my God given talent that would allow the Elease Project to come into existence so that we can help others who have no chance at all of making it on a wide scale in this country and around the world. Pat Clark passed this magical baton to the State of Tennessee. The State of Tennessee then passed it on to James and Elease Hatchett and they in turn put their Christian touches to it and passed all this greatness to me. It has been said that "to much that is given, much is expected." Today I take this baton called The Elease Project and I offer it to you. We can expand this program statewide, nationwide, and worldwide. Blessings from all of us at The Elease Project as we hope this program enhances your life while enhancing the lives of others.
– Keith Hatchett, Chairman of the Board